Get the highest level of everyday compression with this Full Bodysuit Shapewear Black Hooks Eyes Large Size Open Crotch Best Tummy. Tummy, back, torso and leg control with butt lifter. You'll feel full coverage and full confidence, no matter what outfit you wear.

It Features:

1. Wide, adjustable straps for reducing shoulder pressure;
2. Three-layered design of the abdomen to strengthen the control;
3. The hem is glued to prevent curling;
4. The open crotch is convenient for going to the toilet;
5. If out of stock, need to customize.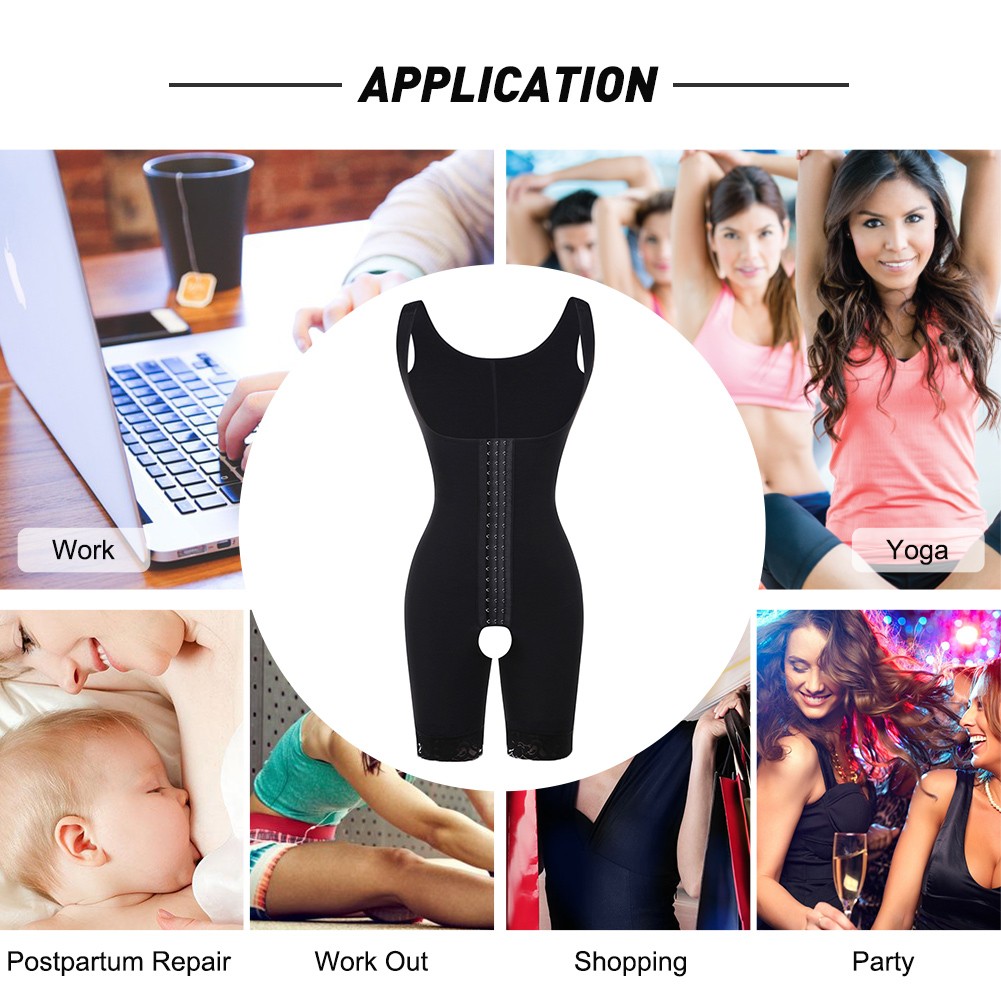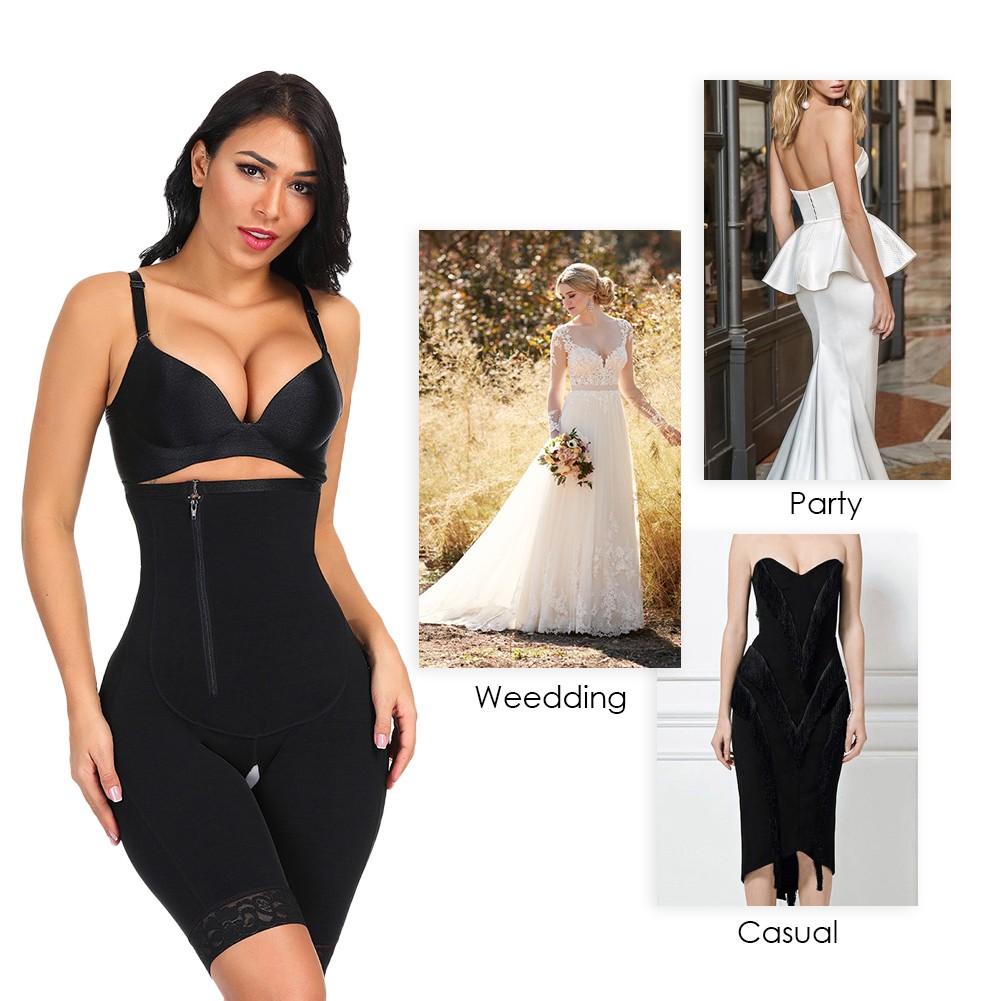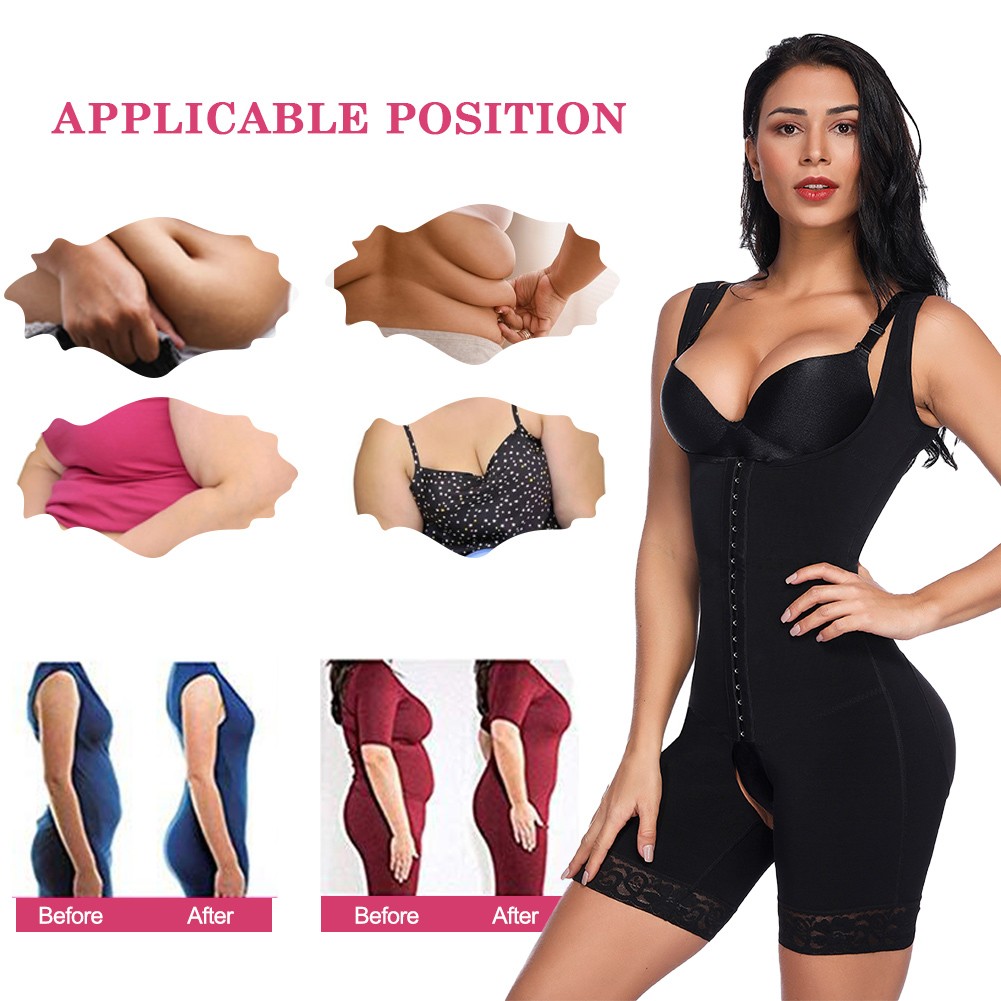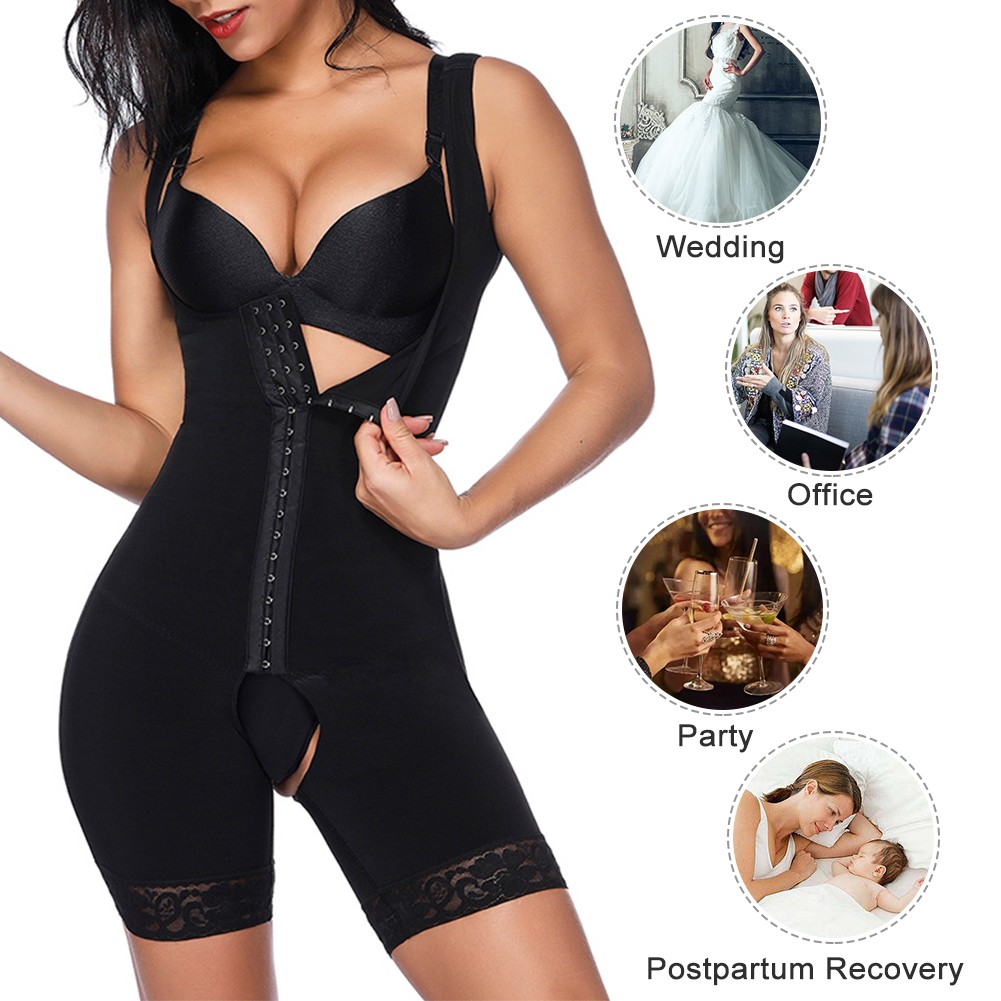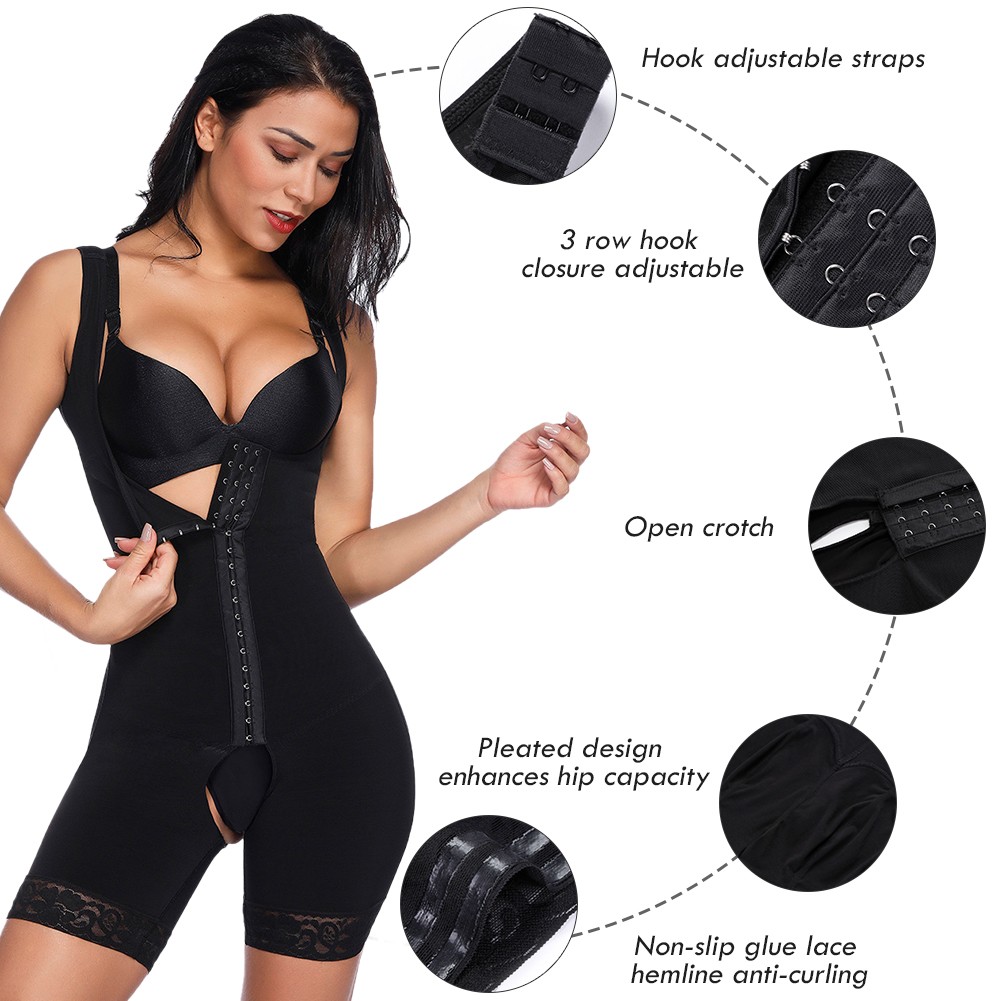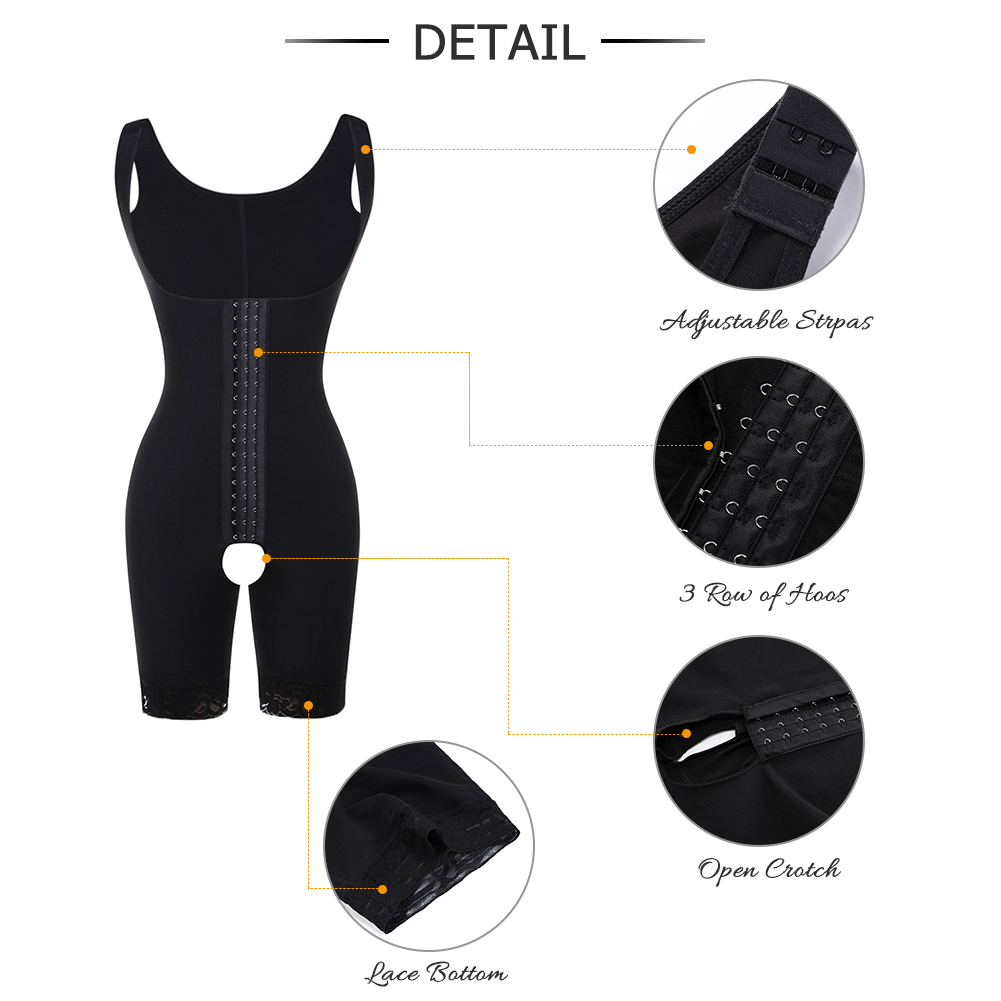 Pay attention: This size chart shows the size of the body measurements,not the size of the shaperwear
| Size | US | UK/AU/NZ | Italy | France | Spain | Germany | Janpan | Russia | Waist | Hip |
| --- | --- | --- | --- | --- | --- | --- | --- | --- | --- | --- |
| S | 4-6 | 8-10 | 40-42 | 36-38 | 36-38 | 34-36 | 9-11 | 42-44 | 66-72 | 90-96 |
| M | 8-10 | 12-14 | 44-46 | 40-42 | 40-42 | 38-40 | 13-15 | 46-48 | 72-78 | 96-102 |
| L | 12-14 | 16-18 | 48-50 | 44-46 | 44-46 | 42-44 | 17-19 | 50-52 | 78-84 | 102-108 |
| XL | 16-18 | 20-22 | 52-54 | 48-50 | 48-50 | 46-48 | 21-23 | 54-56 | 84-90 | 108-114 |
| XXL | 18-20 | 22-24 | 54-56 | 50-52 | 50-52 | 48-50 | 23-25 | 56-58 | 90-96 | 114-120 |
| 3XL | 20-22 | 24-26 | 56-58 | 52-54 | 52-54 | 50-52 | 25-27 | 58-60 | 96-102 | 120-126 |
Pay attention: This size chart shows the size of the body measurements,not the size of the shaperwear
| Size | US | UK/AU/NZ | Italy | France | Spain | Germany | Janpan | Russia | Waist(Inch) | Hip(Inch) |
| --- | --- | --- | --- | --- | --- | --- | --- | --- | --- | --- |
| S | 4-6 | 8-10 | 40-42 | 36-38 | 36-38 | 34-36 | 9-11 | 42-44 | 26.0-28.3 | 35.4-37.8 |
| M | 8-10 | 12-14 | 44-46 | 40-42 | 40-42 | 38-40 | 13-15 | 46-48 | 28.3-30.7 | 37.8-40.2 |
| L | 12-14 | 16-18 | 48-50 | 44-46 | 44-46 | 42-44 | 17-19 | 50-52 | 30.7-33.1 | 40.2-42.5 |
| XL | 16-18 | 20-22 | 52-54 | 48-50 | 48-50 | 46-48 | 21-23 | 54-56 | 33.1-35.4 | 42.5-44.9 |
| XXL | 18-20 | 22-24 | 54-56 | 50-52 | 50-52 | 48-50 | 23-25 | 56-58 | 35.4-37.8 | 44.9-47.2 |
| 3XL | 20-22 | 24-26 | 56-58 | 52-54 | 52-54 | 50-52 | 25-27 | 58-60 | 37.8-40.2 | 47.2-49.6 |