Enjoy a flaunt-worthy figure with our Black 4 Steel Bones High Rise Boyshort Briefs Latex Shaper Plus Size Fat Burning which has 4 steel bones with a latex exterior and breathable cotton interior to give you the best in all-day control and comfort.

It Features:

1. The lace around the bottom adds a sexy touch;
2. 4 Steel bones give firm compression for a slim, hourglass figure;
3. High waisted boyshort design offers additional level of control;
4. With a focus on your midsection and hips, it reduces inches from your waistline;
5. If out of stock, need to customize.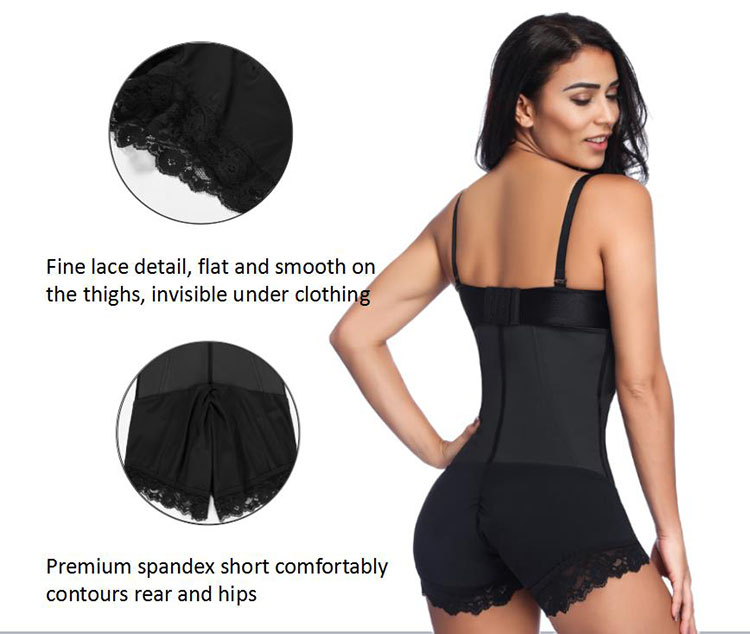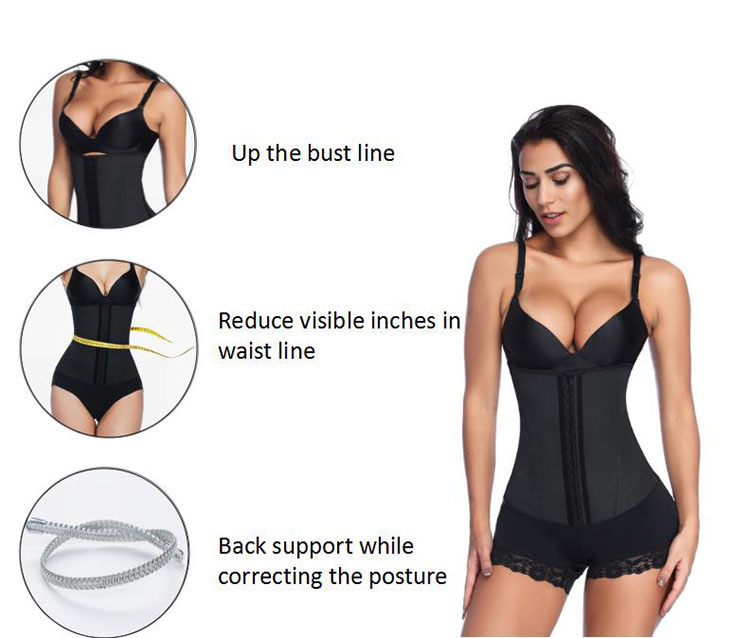 Pay attention: This size chart shows the size of the body measurements,not the size of the shaperwear
| Size | US | UK/AU/NZ | Italy | France | Spain | Germany | Janpan | Russia | Waist | Hip | Length |
| --- | --- | --- | --- | --- | --- | --- | --- | --- | --- | --- | --- |
| S | 4-6 | 8-10 | 40-42 | 36-38 | 36-38 | 34-36 | 9-11 | 42-44 | 64-70 | 88-94 | 30.5 |
| M | 8-10 | 12-14 | 44-46 | 40-42 | 40-42 | 38-40 | 13-15 | 46-48 | 70-76 | 94-100 | 30.5 |
| L | 12-14 | 16-18 | 48-50 | 44-46 | 44-46 | 42-44 | 17-19 | 50-52 | 76-82 | 100-106 | 30.5 |
| XL | 16-18 | 20-22 | 52-54 | 48-50 | 48-50 | 46-48 | 21-23 | 54-56 | 82-86 | 106-112 | 30.5 |
| XXL | 18-20 | 22-24 | 54-56 | 50-52 | 50-52 | 48-50 | 23-25 | 56-58 | 86-92 | 112-118 | 30.5 |
| 3XL | 20-22 | 24-26 | 56-58 | 52-54 | 52-54 | 50-52 | 25-27 | 58-60 | 92-98 | 118-124 | 30.5 |
Pay attention: This size chart shows the size of the body measurements,not the size of the shaperwear
| Size | US | UK/AU/NZ | Italy | France | Spain | Germany | Janpan | Russia | Waist(Inch) | Hip(Inch) | Length(Inch) |
| --- | --- | --- | --- | --- | --- | --- | --- | --- | --- | --- | --- |
| S | 4-6 | 8-10 | 40-42 | 36-38 | 36-38 | 34-36 | 9-11 | 42-44 | 25.2-27.6 | 34.6-37.0 | 12.0 |
| M | 8-10 | 12-14 | 44-46 | 40-42 | 40-42 | 38-40 | 13-15 | 46-48 | 27.6-29.9 | 37.0-39.4 | 12.0 |
| L | 12-14 | 16-18 | 48-50 | 44-46 | 44-46 | 42-44 | 17-19 | 50-52 | 29.9-32.3 | 39.4-41.7 | 12.0 |
| XL | 16-18 | 20-22 | 52-54 | 48-50 | 48-50 | 46-48 | 21-23 | 54-56 | 32.3-33.9 | 41.7-44.1 | 12.0 |
| XXL | 18-20 | 22-24 | 54-56 | 50-52 | 50-52 | 48-50 | 23-25 | 56-58 | 33.9-36.2 | 44.1-46.5 | 12.0 |
| 3XL | 20-22 | 24-26 | 56-58 | 52-54 | 52-54 | 50-52 | 25-27 | 58-60 | 36.2-38.6 | 46.5-48.8 | 12.0 |