High compression rainbow reflective latex waist trainer 7 steel bone slender waist, it is black during the day, and the reflection of the light is rainbow at night.
It Features:

1. Rainbow reflective fabric as a covering, trendy and fashionable;
2. Zip closure with one wide hook & loop waistbelt to enhance tightness;
3. 7 steel bones are added to increase the support effect, in a tiled structure to reduce bra-bulge;
4. 3-layer compound fabric, 96% cotton+4% spandex, 100% latex, and 92% polyester+8% spandex.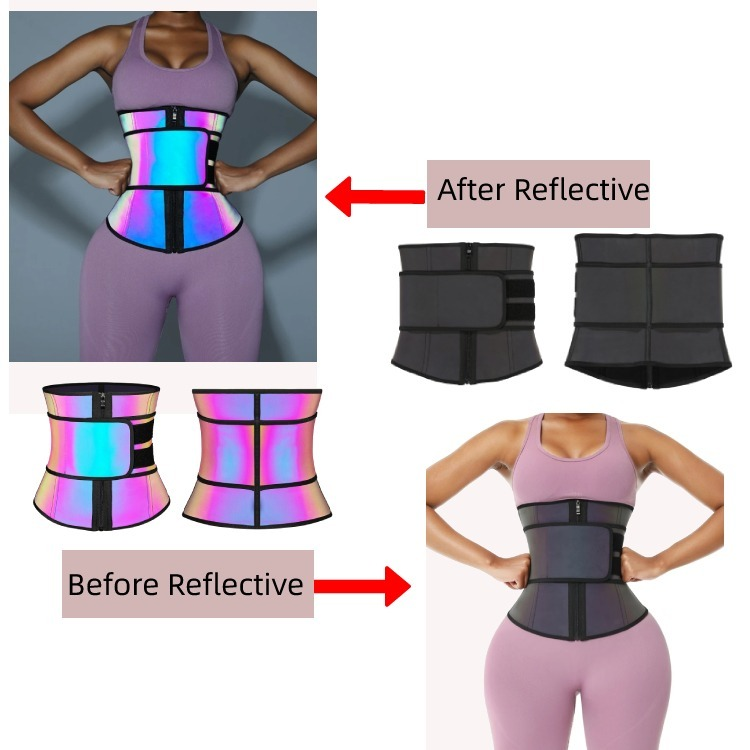 | size | waist | centre_front | centre_back |
| --- | --- | --- | --- |
| S | 62-67 | 32.5 | 27 |
| M | 67-72 | 32.5 | 27 |
| L | 72-77 | 34 | 28.5 |
| XL | 77-82 | 34 | 28.5 |
| 2XL | 82-87 | 34 | 28.5 |
| 3XL | 87-92 | 34 | 28.5 |
| 4XL | 92-97 | 34 | 28.5 |
| 5XL | 97-102 | 34 | 28.5 |
| 6XL | 102-107 | 34 | 28.5 |
| size | waist(Inch) | centre_front(Inch) | centre_back(Inch) |
| --- | --- | --- | --- |
| S | 24.4-26.4 | 12.8 | 10.6 |
| M | 26.4-28.3 | 12.8 | 10.6 |
| L | 28.3-30.3 | 13.4 | 11.2 |
| XL | 30.3-32.3 | 13.4 | 11.2 |
| 2XL | 32.3-34.3 | 13.4 | 11.2 |
| 3XL | 34.3-36.2 | 13.4 | 11.2 |
| 4XL | 36.2-38.2 | 13.4 | 11.2 |
| 5XL | 38.2-40.2 | 13.4 | 11.2 |
| 6XL | 40.2-42.1 | 13.4 | 11.2 |