This Skin Color Underbust Zipper Body Shaper Lace Trim Curve Creator that trains your waist, gives you maximum compression.

It Features:

1. Zipper crotch is convenient to go to the toilet;
2. Butt lifting design enhances your own natural shape;
3. 3-layer design for enhanced abdominal compression;
4. Dropping glue design at legs opening prevent curling;
5. One plastic bone on both sides of waistband to prevent curling;
6. Detachable and adjustable straps give you a variety of flexible ways to wear.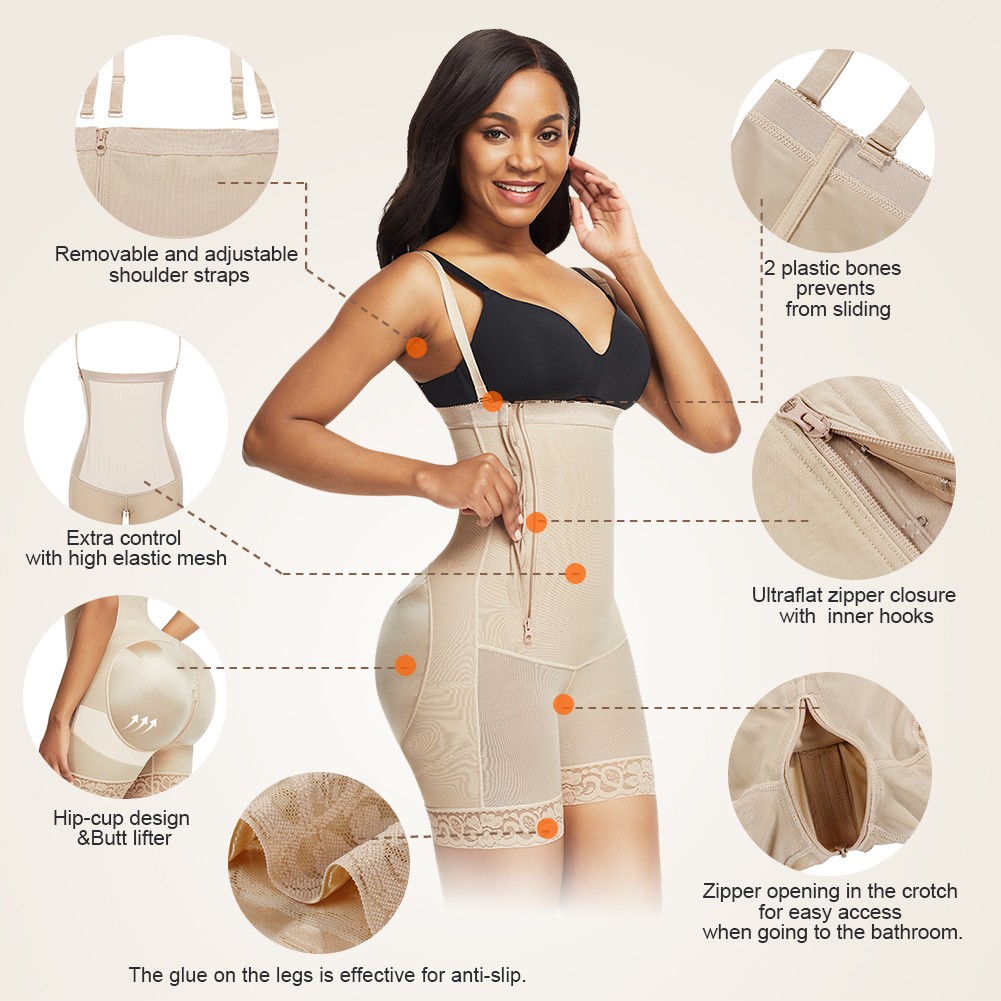 | size | us | ukaunz | italy | france | spain | germany | janpan | russia | waist | hip |
| --- | --- | --- | --- | --- | --- | --- | --- | --- | --- | --- |
| S | 4-6 | 8-10 | 40-42 | 36-38 | 36-38 | 34-36 | 9-11 | 42-44 | 66-72 | 90-96 |
| M | 8-10 | 12-14 | 44-46 | 40-42 | 40-42 | 38-40 | 13-15 | 46-48 | 72-78 | 96-102 |
| L | 12-14 | 16-18 | 48-50 | 44-46 | 44-46 | 42-44 | 17-19 | 50-52 | 78-84 | 102-108 |
| XL | 16-18 | 20-22 | 52-54 | 48-50 | 48-50 | 46-48 | 21-23 | 54-56 | 84-90 | 108-114 |
| XXL | 18-20 | 22-24 | 54-56 | 50-52 | 50-52 | 48-50 | 23-25 | 56-58 | 90-96 | 114-120 |
| 3XL | 20-22 | 24-26 | 56-58 | 52-54 | 52-54 | 50-52 | 25-27 | 58-60 | 96-102 | 120-126 |
| size | us | ukaunz | italy | france | spain | germany | janpan | russia | waist(Inch) | hip(Inch) |
| --- | --- | --- | --- | --- | --- | --- | --- | --- | --- | --- |
| S | 4-6 | 8-10 | 40-42 | 36-38 | 36-38 | 34-36 | 9-11 | 42-44 | 26.0-28.3 | 35.4-37.8 |
| M | 8-10 | 12-14 | 44-46 | 40-42 | 40-42 | 38-40 | 13-15 | 46-48 | 28.3-30.7 | 37.8-40.2 |
| L | 12-14 | 16-18 | 48-50 | 44-46 | 44-46 | 42-44 | 17-19 | 50-52 | 30.7-33.1 | 40.2-42.5 |
| XL | 16-18 | 20-22 | 52-54 | 48-50 | 48-50 | 46-48 | 21-23 | 54-56 | 33.1-35.4 | 42.5-44.9 |
| XXL | 18-20 | 22-24 | 54-56 | 50-52 | 50-52 | 48-50 | 23-25 | 56-58 | 35.4-37.8 | 44.9-47.2 |
| 3XL | 20-22 | 24-26 | 56-58 | 52-54 | 52-54 | 50-52 | 25-27 | 58-60 | 37.8-40.2 | 47.2-49.6 |