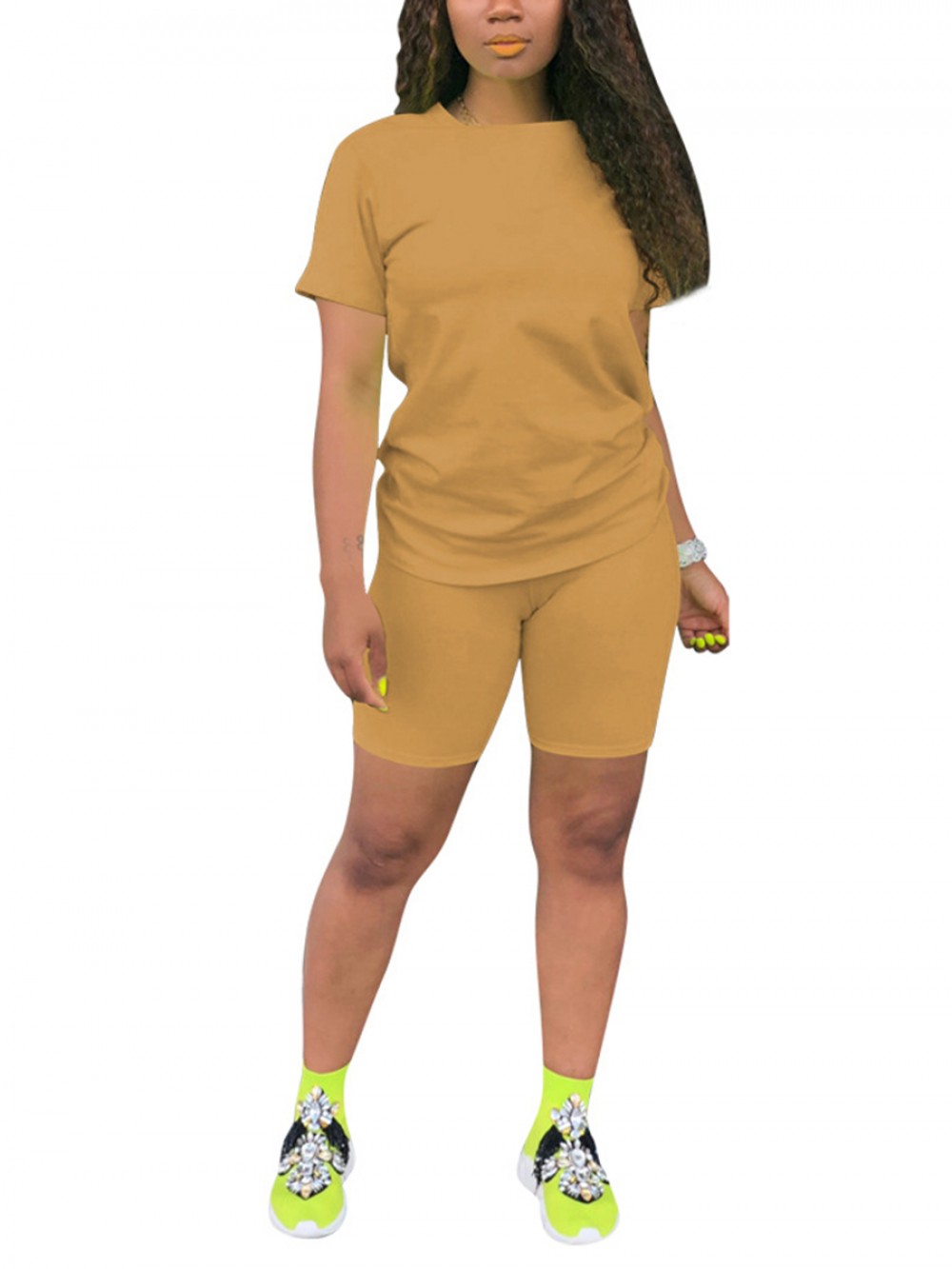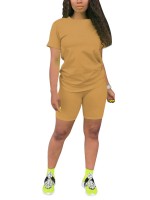 Look and feel amazing when you're wearing the Comfy Apricot Two-Piece Suit Solid Color Round Collar Stretchy!

It Features:

1. The package includes t-shirt and shorts;
2. Solid color is simple and classic;
3. High waist shorts make you look more energetic;
4. Round necks and short sleeves are good for exercise.

| size | us | ukaunz | italy | france | spain | germany | janpan | russia | bust | waist | hip | length_top | length_short |
| --- | --- | --- | --- | --- | --- | --- | --- | --- | --- | --- | --- | --- | --- |
| S | 0-2 | 4-6 | 36-38 | 32-34 | 32-34 | 30-32 | 5-7 | 38-40 | 87 | 65 | 85 | 66 | 48 |
| M | 4-6 | 8-10 | 40-42 | 36-38 | 36-38 | 34-36 | 9-11 | 42-44 | 92 | 70 | 90 | 67 | 49 |
| L | 8-10 | 12-14 | 44-46 | 40-42 | 40-42 | 38-40 | 13-15 | 46-48 | 97 | 75 | 95 | 68 | 50 |
| XL | 12-14 | 16-18 | 48-50 | 44-46 | 44-46 | 42-44 | 17-19 | 50-52 | 102 | 80 | 100 | 69 | 51 |
| XXL | 14-16 | 18-20 | 50-52 | 46-48 | 46-48 | 44-46 | 19-21 | 52-54 | 107 | 85 | 105 | 70 | 52 |
| 3XL | 16-18 | 20-22 | 50-52 | 48-50 | 48-50 | 46-48 | 19-21 | 52-54 | 122 | 90 | 110 | 71 | 53 |
| size | us | ukaunz | italy | france | spain | germany | janpan | russia | bust(Inch) | waist(Inch) | hip(Inch) | length_top(Inch) | length_short(Inch) |
| --- | --- | --- | --- | --- | --- | --- | --- | --- | --- | --- | --- | --- | --- |
| S | 0-2 | 4-6 | 36-38 | 32-34 | 32-34 | 30-32 | 5-7 | 38-40 | 34.3 | 25.6 | 33.5 | 26.0 | 18.9 |
| M | 4-6 | 8-10 | 40-42 | 36-38 | 36-38 | 34-36 | 9-11 | 42-44 | 36.2 | 27.6 | 35.4 | 26.4 | 19.3 |
| L | 8-10 | 12-14 | 44-46 | 40-42 | 40-42 | 38-40 | 13-15 | 46-48 | 38.2 | 29.5 | 37.4 | 26.8 | 19.7 |
| XL | 12-14 | 16-18 | 48-50 | 44-46 | 44-46 | 42-44 | 17-19 | 50-52 | 40.2 | 31.5 | 39.4 | 27.2 | 20.1 |
| XXL | 14-16 | 18-20 | 50-52 | 46-48 | 46-48 | 44-46 | 19-21 | 52-54 | 42.1 | 33.5 | 41.3 | 27.6 | 20.5 |
| 3XL | 16-18 | 20-22 | 50-52 | 48-50 | 48-50 | 46-48 | 19-21 | 52-54 | 48.0 | 35.4 | 43.3 | 28.0 | 20.9 |