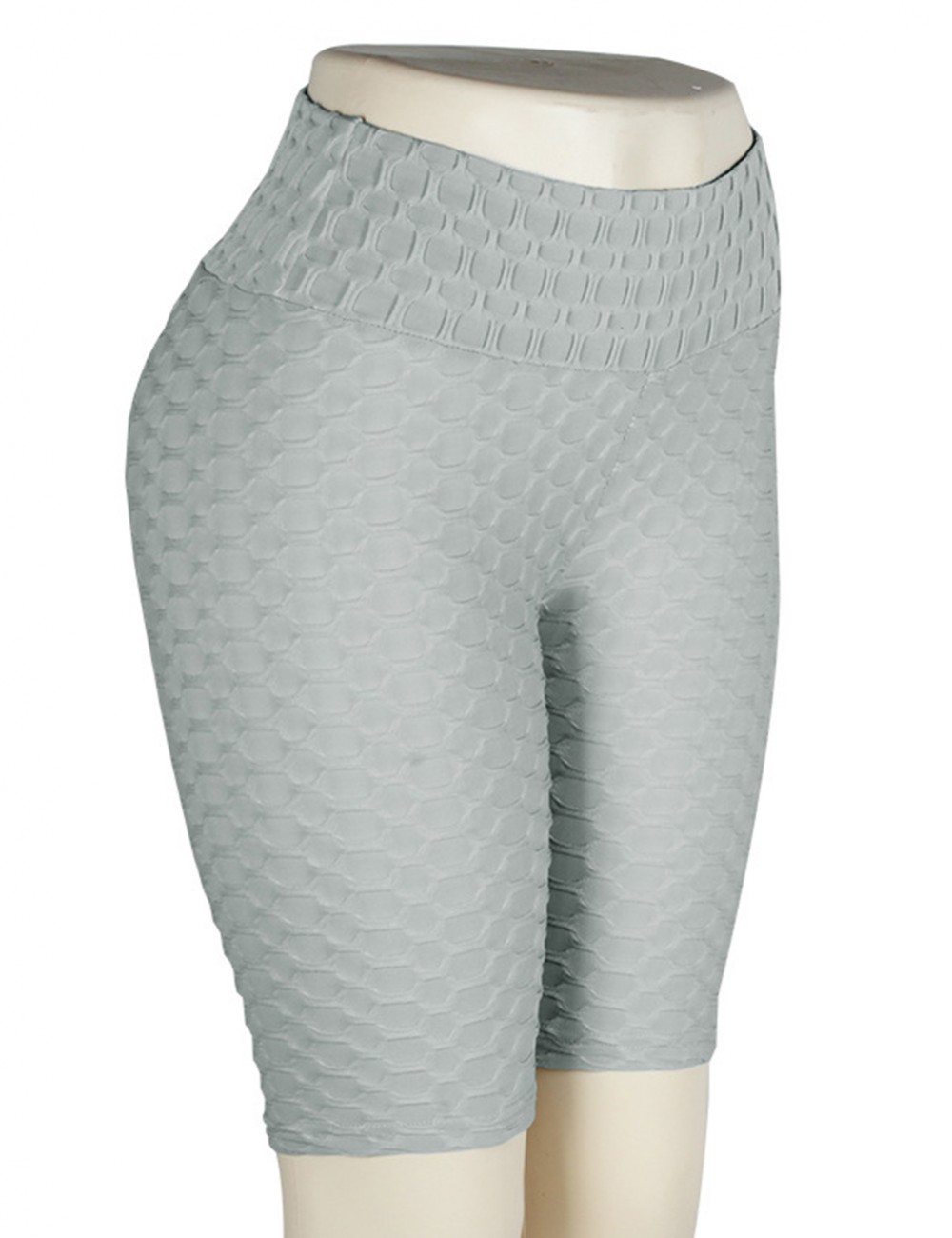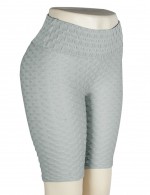 Give your everyday activewear wardrobe a fashion-forward look with this Sleek Gray Gym Shorts Solid Color High Rise Jacquard Garment.

It Features:

1. Bike shorts gives you the freedom to move freely;
2. Solid color can pair with many kinds of bottoms;
3. High rise waist for extra comfort and coverage;
4. Jacquard design makes this short more delicate and special.

Pay attention: This size chart shows the size of the body measurements,not the size of the sportwear
| Size | US | UK/AU/NZ | Italy | France | Spain | Germany | Janpan | Russia | Waist | Hip | Chest | Length |
| --- | --- | --- | --- | --- | --- | --- | --- | --- | --- | --- | --- | --- |
| S | 2-4 | 6-8 | 38-40 | 34-36 | 34-36 | 32-34 | 7-9 | 40-42 | 63-66 | 91-93 | 83-86 | 48 |
| M | 4-6 | 8-10 | 40-42 | 36-38 | 36-38 | 34-36 | 9-11 | 42-44 | 66-69 | 93-95 | 86-89 | 49 |
| L | 6-8 | 10-12 | 42-44 | 38-40 | 38-40 | 36-38 | 11-13 | 44-46 | 71-74 | 98-100 | 91-94 | 51 |
| XL | 10-12 | 14-16 | 46-48 | 42-44 | 42-44 | 40-42 | 15-17 | 48-50 | 76-79 | 103-105 | 96-99 | 52 |
Pay attention: This size chart shows the size of the body measurements,not the size of the sportwear
| Size | US | UK/AU/NZ | Italy | France | Spain | Germany | Janpan | Russia | Waist(Inch) | Hip(Inch) | Chest(Inch) | Length(Inch) |
| --- | --- | --- | --- | --- | --- | --- | --- | --- | --- | --- | --- | --- |
| S | 2-4 | 6-8 | 38-40 | 34-36 | 34-36 | 32-34 | 7-9 | 40-42 | 24.8-26.0 | 35.8-36.6 | 32.7-33.9 | 18.9 |
| M | 4-6 | 8-10 | 40-42 | 36-38 | 36-38 | 34-36 | 9-11 | 42-44 | 26.0-27.2 | 36.6-37.4 | 33.9-35.0 | 19.3 |
| L | 6-8 | 10-12 | 42-44 | 38-40 | 38-40 | 36-38 | 11-13 | 44-46 | 28.0-29.1 | 38.6-39.4 | 35.8-37.0 | 20.1 |
| XL | 10-12 | 14-16 | 46-48 | 42-44 | 42-44 | 40-42 | 15-17 | 48-50 | 29.9-31.1 | 40.6-41.3 | 37.8-39.0 | 20.5 |